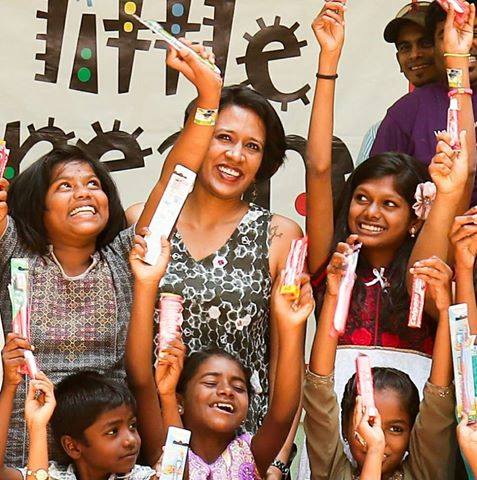 Dental health is a crucial part of a child's growing up years. The health of teeth in little kids will decide how strong and healthy they remain with advancing age, assault of food and other age-related changes.
Taking children to visit a dentist not just rules out any hidden problems that may crop up, but also makes kids aware of the importance of teeth. A good checkup, cleaning, alignment and bite means so much more than just a regular dentist visit.
Dr.Premila has been a specialist paediatric dentist for the last decade, treating children's dental ailments since 2007. Always of the belief that children deserve the best, she has left no stone unturned to ensure that all facilities, care and medical technologies are available at all times. She has also extensively worked with children, and recognises the factor of 'trust' in making them comfortable with such 'scary' looking procedures.
Below are just a few of the reasons why 'Small Bites Pediatric Dental Clinic' is different,
Child-friendly Environment
Small Bites is specially designed for children, with their needs in mind. Parents find that, even though their little one may be anxious initially, they soon feel at home and don't want to leave when their visit is over.
Each member of the Small Bites team takes time to understand and reassure children, especially those who are anxious or have special needs. Treatment options are also carefully explained to parents.
Preventive Dental Care
The doctors emphasize prevention, both by educating children and their parents on dental health issues and using preventive treatments, such as fluoride varnish and fissure sealants. At Small Bites, we are always keeping up to date with the latest materials and techniques, the latest of which are colorful braces.

What do our clients say?
Small Bites is fortunate to get parents and caregivers who trust us implicitly. Below are just some of the kind words from our parents:
"I find that Dr.Naidu is really friendly and calm and that rubs off on the kids. Her office also has a well decorated and well stocked play area. So my son loves coming to the dentist."
"My son always feared going to dentists until he visited Dr Premila Naidu. The ambience of the clinic and her way with kids has made it easy for us to take him for his procedures. No issues with the treatment until today."
"The play area is pretty good for kids at the clinic. Doc gives time to understand the problem and clearly explains."
"good clinic is well maintained. kids really love to play there. they are not feared of medical equipment. they feel comfortable. getting a appointment is also quite easy , through phone or internet. also communication regarding our appointment timings through sms is nice."
"Amazing pediatrician, if your kid has severe cavities she analysis and acts and creates a regime for improving the oral health so that there are no future cavities."
For simple as well as complex procedures, queries that you aren't finding answers for, procedures you are inquisitive about and more insights into your child's dental needs, visit www.smallbites.in