Dental emergencies in Children – Dr. Premila Naidu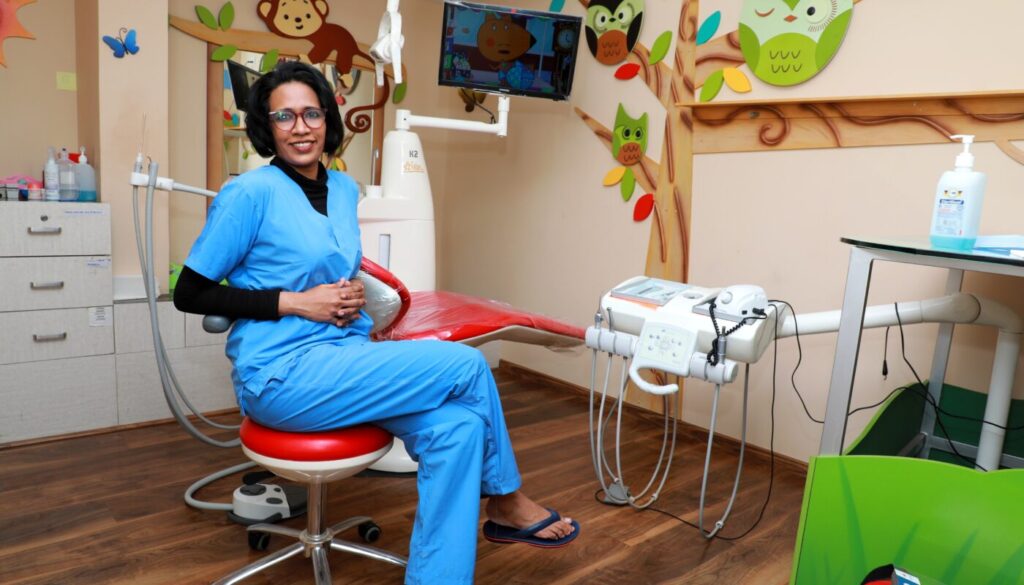 The pandemic and the resultant lockdown has put the spotlight on health and hygiene to ward off contracting the virus. Dr. Premila Naidu shares in this blog how to handle dental emergencies in children.
While you are all ensuring to stay indoors, wash your hands regularly, this is also the time when children are drawn towards sweetened items like chocolates, biscuits, etc., thereby necessitating proper dental care.
Dental care, especially in children, can be difficult. Cavity, fractured tooth because of falls tops the list of causes of dental problems among children. Accessed tooth, teething pain, Operculitis and non-vital tooth are among the other causes of dental problems in children. These problems brings with it pain and discomfort.
The pain can be classified into multiple types. Pain that arises while eating which ultimately subsides on its own or through a pain killer, pain associated with swelling / fever, pain arising from bleeding gums….just to name a few. Timely and proper care of teeth is the answer to that healthy smile. All it takes is frequent check-ups, x-ray of the tooth, medication and timely treatment for good oral hygiene.
Simple grandmother home remedies like salt water gargling, cold compressions, clove, soft food are some of the simple solutions that one can do to avoid any major dental problems.
During times such as the pandemic we are facing, maintaining overall health and hygiene is all the more important. This includes oral hygiene as well. Brushing and flossing, healthy breakfast, reducing sugar and snacking, keeping oneself well hydrated will ensure a healthy oral hygiene.
Diet plays a significant role in defining oral hygiene. Fruits, vegetables especially leafy green vegetables, proteins and grains contribute majorly to healthy teeth. It goes without saying, sugary foods is the root cause of cavities and dental decay. At the same time, we do recognise the fact that children are drawn towards to chocolates, beverages, etc, and they cannot be cut off from them completely. Moderation is the name of the game. Limiting the intake of sugary foods can go a long way in maintaining good dental health.
While eating healthy, brushing and flossing are important and plays a vital role in maintaining oral hygiene, it is important to consult your dentist and make sure all is well and healthy. But the pandemic has locked us down. But not to worry. There is tele consultation available at hand. From the comfort of your home, either from your computer, or your mobile or your tab, hook up to us and we will be more than happy to provide you with all the guidance that you require for that gleaming dental health. Needless to say SMALL BITES takes "safety" as its top priority. Should you feel visiting us personally is more reassuring, you can do so, without a doubt of safety. We stand by our promise of safety.
We at Mums and Stories also had a Facebook live session on www.facebook.com/mumsandstories where Dr. Premila Naidu answered a few concerns, myths and what needs to be done for appropriate dental care in children.
Watch the video here
This article was first published in Mumsandstories