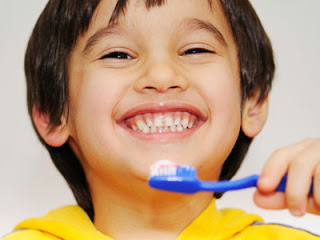 Tooth brushing is an important healthy habit to establish early on.
For babies, you can use a clean, moist cloth to wipe the gums and the teeth once they start to erupt. Change to a soft brush or finger brush once they have at least two teeth.
Parents should be in charge of brushing until their child reaches the age of 6 or 7, and older children will still need encouragement and supervision.
For children up to 3 or 4 years it is easier to see and brush their teeth if they lie down with their head on your lap. Try to make brushing fun – maybe by singing a song as you brush.
For children under 2 years, toothpaste is not advised. Once you start using toothpaste, use a small pea sized amount and encourage your child to spit it out. If your child is unable to spit out after brushing you can use a non-fluoridated toothpaste. Whilst fluoride is useful for preventing cavities, swallowing too much can cause fluorosis and staining of the developing adult teeth. Even after they learn to spit, young children will still swallow some paste so a toothpaste with a lower fluoride content is advised until around 7 years old. Ask your dentist for advice on which toothpaste is best for your child.
Tooth brushing at twice a day should become part of the child's daily routine.  Let your child see you brushing. Small children love to copy what their parent or older sibling is doing. If your child sees you brushing regularly, it will set them a good example to follow.
It takes two minutes to brush teeth well. It may help to get a timer, or use one on your mobile phone. Make sure that all tooth surfaces are brushed.
Toothbrushes should be changed every three to four months, or sooner if they show signs of wear. Although not essential, a toothbrush with a favourite cartoon character on it may help motivate your child. You can use an electric toothbrush, if you find it easier, as long as it is one designed for children.
If you sometimes forget or your child is reluctant, you could use a reward chart, on which you place a star or smiley face, each time the child has their teeth brushed.