3 Pediatric Dental Advancements Small Bites Is Most Excited About
We're already implementing them, and more to come!
As one of India's leading children's dental clinics complete with pediatric specific methodologies, themed interiors with toys and learning materials, multimedia and technology that makes dental interventions stress-free and pleasant, and experienced pediatric dentists, Small Bites is uniquely positioned to lead the way in pediatric dental advancements. Dr.Premila of Small Bites has been at the forefront in spearheading new innovations in treatment, including the latest 'laughing gas' intervention to relax children during complicated procedures and in cases of increased sensitivities.
And yet as we all know, pediatric dentistry is constantly evolving. Because children are at the receiving end of treatment and dealing with their dental issues is critically important from the start, every new development and every new intervention is important, and we've been introducing them at our clinic as some of the first critical interventions in the country since the last 15 years.
As pediatric dentists, here are 3 dental intervention and innovations that will change treatment in the coming months and years.
1. EARLY CAVITY DETECTION WITH PRECISE DIAGNOSTIC & IMAGING TOOLS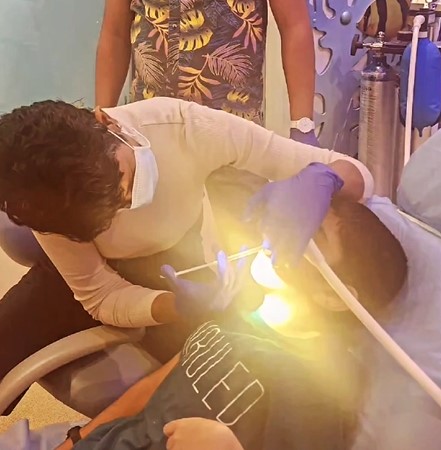 Imagine as a parent taking your child regularly for checkups, and finding cavities forming in your child's mouth even before the physical signs – dark spots – building on them?
Baby teeth are important. They pave the way for healthy and whole permanent teeth, contribute to facial shape and help in speech development. It is all about children and their confidence and thus tooth decay signs in them are very damaging. However, working extensively on dental intervention in little children comes with its own stress and anxiety. Catching delay early is thus beneficial and also easy, fast and affordable. It prevents the entire process of finding the decay, removal, surgery, restoration and more. Emerging decay can also be reversed if found early.
Getting a child examined by the dentist at the age of 1 year is the first step towards preventative dental care. Newer diagnostic tools like imaging and illumination are slowly making their way into pediatric dentistry and in the future will be able to pick changes in bone density and enamel thus identifying decay spots early, making treatment easy.
2. PAINLESS INJECTION AND TECHNIQUES
Getting children examined and treated begins from making it painless and comfortable for them. If as a parent you are stressed while taking your child to the dentist, think of how that stress will pass on to them subtly & invariably.
Injections for both adults and kids alike can be terrifying. The feel of a needle piercing into the gums can prevent children from getting the best treatment they can and in time. Painless injections and techniques can take care of it. From multimedia distractions to methods that minimize the use of anasthesia, some of the 'pinch' felt by kids and their stress can be greatly reduced.
Kids with severe dental phobia or neuro-atypical children or those with increased tactile & textural sensitivity can avail of safe, effective dental treatment with sedation dentistry when absolutely needed. Nitrous Oxide or Laughing gas is increasingly being used as a safe alternative to ease stress, delivered only when required in required doses by expert trained dentists.
3. BITE-SIZED DENTISTRY
Children love play, and anything that can make their surroundings less foreboding, more engaging and more child'like in size. One of ongoing and future trends of pediatric dentistry is the child-sizing of dental technology.
For years adult dental tools and tech have been used in treating children, and they can seem huge and daunting from the perspective of little eyes. But as we're constantly updating our technology and tools, imaging and machines, at Small Bites, we're constantly using high-tech imaging only when absolutely necessary, decreasing exposure time for kids and using smaller tools where necessary. The use of pedo sensors – bite sized digital sensors instead of bitewings is one such breakthrough, that will become increasingly common in the next few years. They make treatment comfortable and fast. Handheld x-ray machines, CT radiographs are other equipment getting more popular in use, all in the effort to be more precise, reduce exposure and make treatments quicker.
The use of Invisalign First or transparent braces is a significant endeavor to make treatment more child friendly. Re-aligning children's teeth, improving their bite, shaping their mouth are all being done by Small Bites' 'Center For Invisalign' in an effort to make it all seem gentler and more manageable for the child.
At Small Bites we make sure we're doing whatever we can for our children, giving them access to treatment and tools that make their experience fulfilling and happy, whether for the children themselves or their parents.