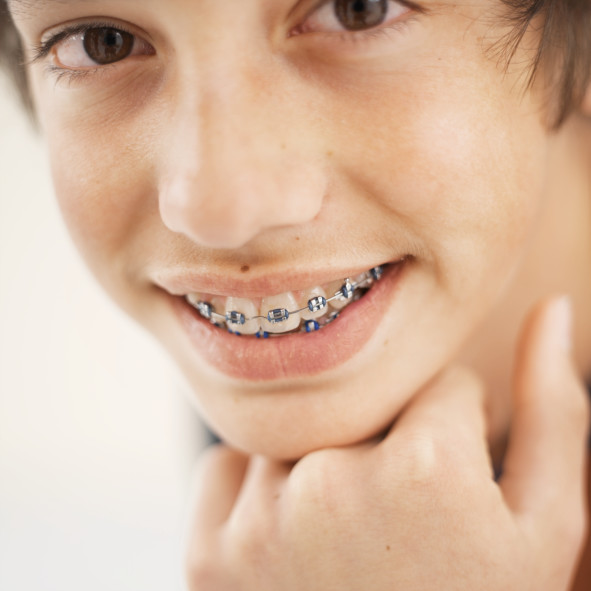 An important intervention by parents for their children's teeth is getting braces fitted. This often happens in their teenage years primarily because at that age, crooked teeth, misalignment and their jutting out becomes more obvious. With children about to leave school and go into society for further studies, work or other engagement, they become very conscious and parents therefore feel such intervention necessary. For children, self-esteem is also very important and bad teeth can make them feel unpresentable.
Children who start with visiting a paediatric dentist from an early age, are regularly checked for such misalignment which can be corrected when it becomes obvious. Unfortunately with parents starting dental checkup late, this is often picked up when older and then follows the process of fitting braces and trying different ones to ensure teeth are corrected in time.
Children who are constantly observed at a younger age are easier to track in the growth of permanent teeth or if there exists any deviation. Because tissues are more malleable and flexible than an adult, any aberration can be fixed before adolescence so that children will learn to adapt better.
Some older children resist braces, some find it cumbersome and others painful. The only way to make it easy for them is by early intervention or whenever parents observe any kind of misalignment. There are a few things to remember, before getting dental braces fixed for your child.
---
What is a good age for braces?
Braces can be put at any age. Although done mostly in teenagers because that's the time children and parents notice crooked teeth, braces can correct misaligned teeth at any age provided the child has strong teeth and gums. Weakened gums and poor teeth cannot hold them up. Robust, flexible gum tissue ensure that braces can be held up and fulfil their intended purpose.
Which type of braces are the best?
Braces aren't just for straightening teeth. It is always assumed that children need braces to straighten teeth. This is far from its intended purpose. Dental braces achieve a lot more than just this. Besides straightening, they also help identify any hidden tooth or gum problems. While introducing braces, a paediatric dentist first understands whether the mouth can take such strain, whether gums bleed or are diseased. Correcting them first ensures that braces do what is required of them. Also bad bite, constant grinding, jaw problems can all be picked up and treated before intervention.
Braces can be invisible or visible: 
It is upto the discretion of the paediatric dentist as to the kind of braces that need to be fixed. Besides the aesthetic purposes, dental braces are chosen for specific reasons, to work on specific dental areas and also based on materials. Only a doctor would know and advise how to go about this.
What is the average cost of Braces?
The cost of braces depends on several different factors, with material, size and fitting being the primary ones. Invisible braces are more expensive than the metal ones but may not always be better. The dentist is again the best person to advise this for your child.
For how long should the braces be used?
Every kind of braces treatment depends on severity of the gap, time taken for teeth to set and fixing a child's bite. The duration of fitting dental braces depends on several factors and change in the dental structure and teeth alignment takes time. Dentists usually advise a minimum of a year for alignment.
What are the side-effects of using Dental Braces?
Braces can be uncomfortable. Wearing and getting accustomed to braces takes time. Since the mouth is very sensitive, it will need getting used to especially when chewing & swallowing food. While the actual fitting of the braces never hurts, there will be soreness and aching. This is however temporary and will subside after a few days.
Fixing your child teeth with braces will do a whole world of good to them. It will help in aligning their teeth, articulation, changing the shape of their mouth. However early intervention is better, and a careful checkup with a paediatric dentist will ensure that any hidden problems are eliminated.
For more details fill the below form and we will get back to you at the earliest.