Everything you need to know about Invisalign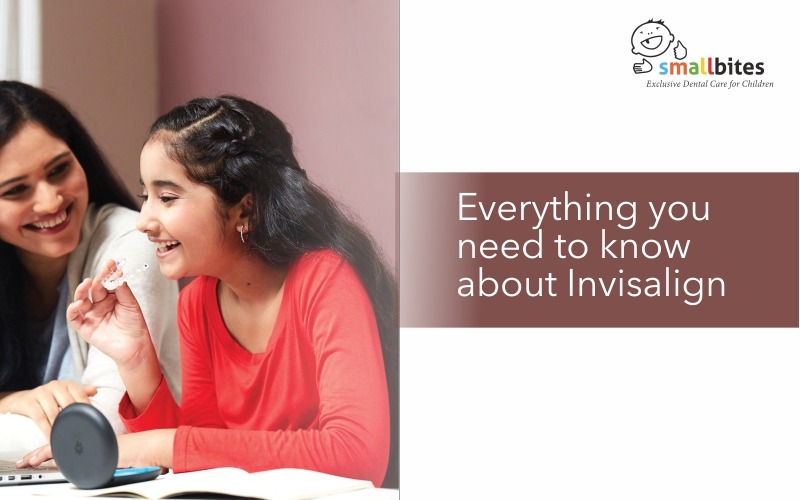 The last few years have witnessed path-breaking developments in the field of Orthodontics, given the significant increase in the aesthetic demands of teens and pre-teens lately. As paediatric orthodontists, we often come across kids who express hesitation to correct their teeth alignment. This could be because they are petrified about the procedure or reluctant about wearing traditional braces that aren't very visually attractive.
Adolescence is a very delicate phase in the development of a child. During this time, they undergo biological, emotional and mental changes and are quite conscious of how they look or smile. Kids with crooked teeth or bad bites are often embarrassed about their smile; they tend to avoid speaking when strangers are around strangers to hide their teeth. Kids usually are influenced and affected by what their friends think of them. Even a snide remark by a mean child can devastate a teenager for several days. In fact, boosting confidence is one of the main reasons why parents seek orthodontic treatment for their kids.
In an attempt to overcome this rising concern about the treatment's complexity among teens seeking smile correction, aesthetic materials and techniques have been introduced in clinical practices. Since its development in 1997, Invisalign® technology is established worldwide as an aesthetic alternative to traditional braces. CAD/CAM stereolithographic technology is used to forecast treatment outcomes and fabricate a series of custom-made aligners using a simple digital impression. Invisalign has witnessed a drastic development since its introduction with continuous upgrades.
Invisalign practitioners have left no stone unturned ever since the introduction of these clear braces, in bringing a smile to every child's face. The launch of Invisalign Teen® aligners has been icing on the cake.
Here are some of the key reasons why we love Invisalign:
1. Virtually invisible – It is thin & transparent. No one notices your teen's aligners unless they are told about it. (No regular braces, no wires, and no bands)
2. Minimal Food Restrictions – Your kids don't have to avoid any of their favourite foods while using these aligners, unlike the metal braces where there are restrictions. You can easily remove the Invisalign trays when eating and enjoy all that you like, hassle-free.
3. Freedom to play Sports – Invisalign is an excellent option for kids who are actively involved in sports. There is a risk of mouth injuries with metal braces; therefore, this is a great fit for active kids.
4. Ease of maintenance – Kids can clean and floss their teeth more efficiently and prevent tooth decay and retain a healthy mouth without having to go the extra mile.
5. Easy for stage performers – Their invisibility makes it very easy for kids who love stage performances. This makes their lives simpler in terms of maintenance and also boosts their confidence to face the audiences.
6. No disturbance – Lack of nuisance with Invisalign aligners allows them to focus on studies and all that they love entirely. In contrast, traditional metal braces could cause poking, ulceration, pressure, etc.
7. Improved self-esteem – Invisalign allows children to be their confident selves without being conscious of their crooked teeth or smile. It will enable them to have a flawless smile and flaunt it too!
8. Faster than braces – Typically, Invisalign aligner trays are customized during the course of the treatment, and hence they tend to be faster than braces. These aligners change during treatment so that they are always working to improve the alignment of your teeth.
9. No Emergencies – Invisalign means no brackets and wires like the metal braces – There is a minimal chance of orthodontic emergencies occurring as there is no hassle of brackets and wires breaking.
10. Fewer appointments – Invisalign patients will need minimal appointments to complete therapy. Fewer visits to the clinic mean you don't have to find time in your hectic schedule to stop in as much to get your aligners checked, unlike with the metal braces.
The only concerns parents could face with Invisalign are that the teens should wear the aligners for the recommended 22 hours per day, and sometimes teens may not have all of their permanent teeth in place and they could still be erupting in some cases.
Luckily, technology has come to the rescue. The first problem is addressed by "compliance indicators" located on the aligners themselves. These colored dots fade over time as the aligners are worn out in the mouth, indicating whether or not your teen has followed the plan. The built-in "eruption tabs" in these aligners made especially for teens solve the second problem. These tabs are designed to hold space for teeth that have not yet fully erupted.
Finally, there's a lot to consider when you weigh up the options of orthodontic treatment. Decide what pros and cons work best for you and make an informed decision after consulting with an expert. Do reach out to us if you have more queries.